COVID-19 Update
The majority of UC Santa Barbara and community events will be held virtually via Zoom for Spring 2021. Please check individual event details for information on how to join the online event. Environment@UCSB encourages faculty, staff, students and community members to check the UC Santa Barbara homepage for University-wide updates regarding the global COVID-19 pandemic.
Community Events
Interactions between overlapping air quality regulations can have unintended impacts on polluting activities. We identify a potentially important interaction whereby local regulators in areas constrained by one kind of regulation—threshold-based local air quality standards—have an incentive to permit more local pollution in response to a decline in emissions induced by another kind of regulation—rules targeting power plant emissions. Dr. Fowlie will be presenting in person at Bren. Join us in Bren Hall 1414 (masks recommended) or watch online using the link below and passcode "power".
Online/ View in Bren Hall 1414
11:00am- 12:00pm PDT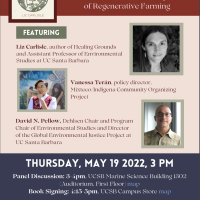 Thursday, May 19
Panel Discussion: 3-4pm, UCSB Marine Science Building 1302 (Auditorium, First Floor) map
Book Signing: 4:15-5pm, UCSB Campus Store map
Featuring:
Liz Carlisle, author of Healing Grounds and Assistant Professor of Environmental Studies at UC Santa Barbara
David N. Pellow, Dehlsen Chair and Program Chair of Environmental Studies and Director of the Global Environmental Justice Project at the University of California, Santa Barbara.
Vanessa Terán, Policy Director, Mixteco/Indigena Community Organizing Project
UCSB Marine Science Building 1302
3:00pm PDT